Student Care: With our excellent ratio of 1 staff to 2 students we ensure the children are well taken care of, supported throughout the course and that their educational needs are met.
What's Included in the Cost?
The all-inclusive cost from the moment of arrival at the school to the day of departure covers:
Accommodation
All meals with plenty of choice
All academic tuition
All sports, sailing and ocean cruising
All expeditions and adventurous activities
All recreational activities and excursions
All laundry
Medical health cover while at GISS
Airport transfers from/to Aberdeen (Dyce) or Inverness (Dalcross) airports
There are no extras other than any personal pocket money at parents' discretion and travel insurance which is highly recommended
Travel Arrangements
It is the responsibility of parents to make the travel arrangements for each student to reach Gordonstoun. We strongly recommend that all younger students travel as 'Solo Flyers' or 'Unaccompanied Minors' and parents should arrange this when purchasing air tickets.
Students will be met at Inverness or Aberdeen airports.  We do have representatives at the London Airports but due to security arrangements, our escorts cannot proceed past the check-in/immigration desks.
Unless you are confident that your children are able to change flights and perhaps terminals with no assistance – please register them as UM's.
Scheduled air services exist as follows:
London airports to Aberdeen and Inverness.
Amsterdam to Aberdeen and Inverness.
Paris to Aberdeen.
Frankfurt to Aberdeen
Some other UK airports, for example Manchester and Birmingham, also have connecting flights to Aberdeen from some major international airports.
Accommodation and Pastoral Care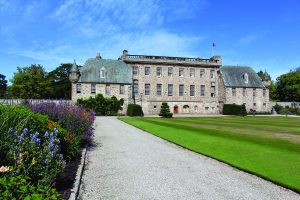 Students will be accommodated in the school Boarding Houses where they will be guided and looked after by house-masters, house-mistresses and resident assistant staff.
There will be no smoking or drinking of alcohol as this is contrary to the educational aims of the course and GISS policy. Great emphasis is placed on ensuring that all students have a happy and fulfilling time while they are at Gordonstoun.  Students in the Boarding Houses are able to relate well to the resident staff and to share concerns as necessary.
Friendships grow amongst the students as a result of this family atmosphere.
Throughout the programme both within the formal activities and at leisure, our staffing ratio of one member of staff for every two students ensures a high level of personal attention.
Food
Food for the course has been planned by an expert dietician to provide a balanced diet suited to the needs of all students.
There is a great deal of choice and alternative dishes will be available for vegetarians and students with medical or religious requirements.
Gordonstoun's Catering Manager has personal supervision of all the catering arrangements for the Summer School in the School's beautifully appointed modern refectory.
Clothing
Casual, comfortable clothing for summer time in the UK is required.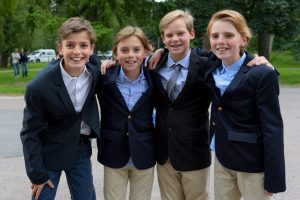 Dress throughout the day will be informal except for the Summer School photograph and final dinner, which will require a shirt & tie with smart trousers for the boys and equivalent for girls.
Laundry will be sent and returned twice a week. A suggested clothing list is below and will also be sent with administrative details on registration:
Soft holdall bag – (used to take personal clothing to West Coast Adventure phase)
Small padlock with key or combination for bedside cabinet
Waterproof jacket
Thick woollen sweaters
At least two or more pairs of jeans or washable trousers – (one pair for wear during adventurous activities)
Blouses/shirts/T-shirts
Track suit or sports trousers and sweatshirts
Footwear – at least 3 pairs of shoes/trainers for indoor and outdoor wear, trainers for sports (white soles if possible) and a strong pair of trainers for adventurous activities.
Underclothes and socks, including at least two pairs of thick warm socks
Swimming costume
Pairs of pyjamas/night wear
Toilet articles – shampoo etc. – (towels provided by Gordonstoun School)
ALL CLOTHING SHOULD BE NAMED  Students are asked to look after their belongings carefully.  Every attempt is made by house staff and assistants to help with this, however, where losses occur, it is not possible for the School to accept responsibility and personal insurance is advisable.
Medical Attention
The School's Healthcare Centre is fully staffed by our qualified nursing team throughout the GISS courses.
A doctor will be available throughout the whole of the Summer School.
Excellent medical facilities exist in the school and a few miles away at Elgin. Medical treatment for students is provided by the UK's National Health Service and our own medical resources
Climate
The weather in Scotland in July/August has an average temperature of 16-18°C (62°F) and often reaches 25°C (72°F) or more.
These months are regarded as probably the best two months of the year in Scotland.
Communication & Photography
Mail for the students should be addressed to:
Gordonstoun International Summer School
Elgin
Moray
IV30 5RF
Scotland
UK Tel: + 44 (0) 1343 837821 E-mail: giss@gordonstoun.org.uk
Mobiles & Electronic Devices
Electronic devices, including mobile telephones are allowed, but their use is restricted to specific times during the day: morning before breakfast, after final period in the evening until just before bedtime, strictly following the rules given by the Summer School Director. For the rest of the day, and at night, phones will retained by their respective House Parent. Repeated abuse of our phone policy will result in confiscation of the device.
Religious Worship
Students are encouraged to carry out their devotions as at home.
There will be church services locally for different Christian denominations including Roman Catholic, Anglican and Presbyterian, for those who wish to attend.
A prayer room for Muslims is also available.